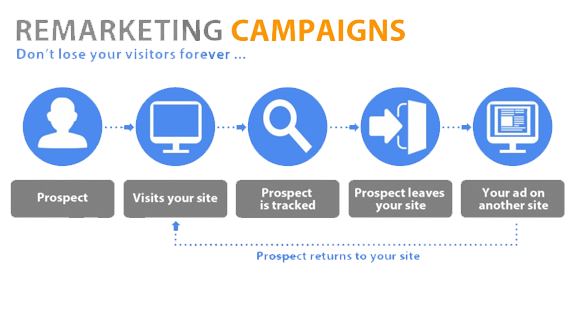 The purpose of remarketing is to show ads to people that have visited your website to remind them of your brand. The simplest setup places a general piece of code throughout the website so that a visitor of any page is tracked with a cookie and an advertising banner is displayed to them on sites that display Google display network ad blocks. More complex implementations can involve placing specific tags on specific pages, for example the golf page, and then the ads they see for the resort can target their interest in golf packages. The idea is to make this advertising very specific to the visitor's interest and achieve higher conversion as a result.
How Google Remarketing Setup Works
Advertising costs are pay-per-click. You'll need to define a budget, we'd suggest starting with something like $35 per day and we can adjust up/down as needed
Remarketing setup requires a fair amount of creative and technical work. Below you can read and outline of how we approach this process.
1) Define Use Cases
We need to define "use cases". A use case means, if a website visitor did this, we show him that ad.
So for example, if they visit the a webpage about golf, and the visitor is on a site that carries Google's display network, they might be shown our ad. The Remarketing, also called retargetting, is that we'd specify that it is an ad that plays on their (assumed) interest in Golf.
This is just an example, but the whole point is that the visitor is shown a targeted ad on other websites to remind them about your brand and services.
We would start the campaign with 3 use cases, i.e. that the website visitor visited
a URL for new product or service
a URL for a form thank you page (showing they contacted you)
a URL for your top-selling product/service page
2) Advertisements
Based on the use case, we need to create a set of advertisements, mainly as graphics. We have to define a specific message for each use case, i.e. "This New Product Solves This Problem!", and create a series of graphics to accommodate the variation of sizes that might be used within the display network.
We will create 1 main graphic for each use case, get approval of it, and then create the other sizes we need.
We will also need to define the target page that the previous visitor would arrive on if they click the ad. This may involve the creation of a specialized landing page for each use case.
3) Campaign Setup
Then we take these materials and notes and setup the remarketing campaign which will have 3 use cases and associated ads for each use case.
You will need to add google remarketing codes to specific pages on the website based on the use cases we decide to start with.
Display Network Maintenance.
Once we have done the above and started the campaign, each click is charged against the daily budget we set.
As the ads are shown, we start to see the websites the ads are shown on. We can then adjust  our ads, our bids or block certain sites, but that can only be done once the campaign has started running.
Please budget extra time for campaign maintenance for the first 3 months so we can check the campaign frequently and create reports of its performance. Once we are comfortable with the settings and the performance of your initial use cases, you can consider how to improve on what we've built.
Powerphrase will take you along each step of the way!
Contact Info
2900 South Harbor Blvd,
Suite- 217, Santa Ana, Ca 92704.
United States.
See Some Of Our Latest Work!