Your website is the face of your organization that the rest of the world sees most frequently. It is important to make sure that the face your organization shows to everyone is projecting the image that you want it to project. Our team of web design professionals can provide you with competitive web design in San Diego so that your site stands out.
How We Design with You in Mind
Our web design team prioritizes both your website's user interface (UI) and its user experience (UX). While these two things might seem like one and the same, they impact your audience in significantly different ways. Your website's user interface involves the "nuts and bolts" of user interaction with your site. When our team is focusing on your user interface, they are working to make sure that your site has the optimal layout for the functionality that you need. Our web design team will want to learn a lot about your organization in order to be certain that they are building you a site that will function the way that you need it to. An e-commerce organization's site will need to have drastically different functionality than a website for an automotive repair shop. Our web design team generates a site layout that will do exactly what you need it to do.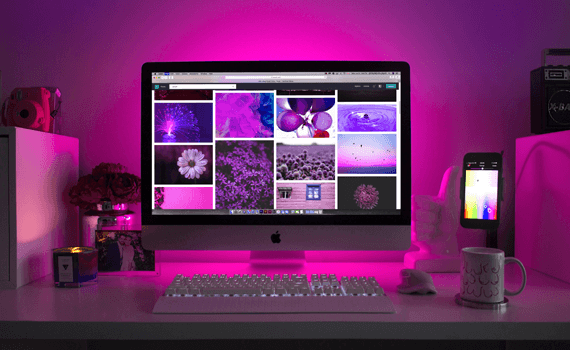 Another aspect of your site's user interface is its ability to load and display well on all types of devices. We build you a website that will load quickly and effectively. When your website loads well, it becomes easier for search engines to find because search engines can see that users who come to your site are staying on your site. When websites load slowly, users tend to leave the slowly loading site and find their information elsewhere. Our team ensures that you have a site that keeps your audience interested. We also develop a website that will display optimally whether users are browsing on a tablet, a PC or a mobile phone. Since more web browsing now occurs on mobile devices than on PCs, a site that doesn't display properly on all devices will automatically cost you in terms of pageviews.
How We Create a Memorable User Experience
Our web design team is expertly trained to give you a website that delivers a user experience (UX) that is both positive and memorable. Our team conducts extensive research of competitors' websites as well as key words that are entered when users search for websites similar to yours.
They use this research to craft a website for you that ensures a positive user experience. They do this by making sure that the information your website provides is easy to find within the site. Using the data they gather from research of competitors and your target audience, our team designs an intuitive system of organization for your website so that your audience can easily find the information they are looking for. Our web design team also makes sure that your website itself is easy to find on the internet. They do this by ensuring that your site is easily visible to major search engines and that it is working properly.
In addition to ensuring that your site is easy to find, our web design team provides web design in San Diego that creates a useful and desirable site. Based on their research, the web design team includes valuable information that consumers are looking for within your website. Consumers are looking to find the information they want quickly. They are also looking for information that is stated clearly. With help from our web design team, you can have a site that gives helpful information in a clearly communicated way. Our web design team also works closely with our marketing team to create a website users want to view. Intentional marketing campaigns that tie in closely with your site's mission will create interest in your site both from within the site and from other areas of the web. Find out more about how our team of web design professionals can build a site with an unparalleled user interface and user experience, and you can catapult your site to new heights.
Find local SEO expert to get new business opportunities
2900 South Harbor Blvd Suite- 217, Santa Ana, CA 92704. United States.
Phone: (310) 734-8328
info@powerphrase.com